Preparing for a big stakeholder virtual presentation delivered remotely? How professional are your online virtual meetings?  The way we run remote meetings needs to evolve. Here are a few tips to help you turn a dull one-sided, death by slides, monologue into an engaging collaborative conversational meeting.
Schedule Shorter Meetings
Allowing space for shorter meetings and giving your buyers downtime between meetings is considerate. They'll appreciate it. Gestures such as "I want to provide you the 15 minutes before your next meeting, so we'll stop at ten minutes to the hour. By scheduling meetings a little shorter, you'll differentiate yourself from your competitors.

For example, you change the length of your meetings to the following:
60 minutes could be 45 minutes

30 minutes could be 25 minutes
Always Have A Meeting Agenda
It's important to set an agenda for each and every meeting. Propose and agenda to your champion and executive sponsor and have them verify the agenda. Make sure to include an agenda in the calendar invite. Make sure the agenda is also referenced at the start of the meeting and get confirmation that the agenda is still the right agenda.  
Share Presentation Materials Before The Meeting
It's a good practice to share presentation materials, slides and videos assets ahead of the meeting and after the meeting to help shorten decision cycles. Give meeting attendees a chance to review your information and put some thought into your ideas and solution before you meet. Your meeting attendees will be more educated and they'll come prepared with more thoughtful questions. 
Prepare Questions To Ask During The Meeting
Plan for open-ended questions to be asked on each slide, during the meeting. Leave space and time for answers and conversation among the meeting attendees. Here are some question examples to ask on slides. The questions are open-ended and designed to hear feedback. 
Solution Slide:

How does this solution compare to your vision?

Customer Story:

What part of the story resonates the most with you?

Customer Current Situation:

What would you add?
It's best to know sooner than later if you're on mark or missing key expectations in a meeting.
Use Chat And Polls To Drive Engagement
Be inclusive of all meeting participants by strategically using the chat to give everyone a chance to share feedback and have a voice. Propose to every meeting participant that they can use the chat to ask questions, share comments and provide feedback. It's a good idea to cede some questions to get people engaged. Polls work great too.
Practice. Practice. Practice
Now more than ever, practice and dry-run your presentation with your team to ensure transitions, questions and key points are effectively delivered. Get comfortable with your meeting flow and talk track to ensure people are aligned and not talking over one another. Practice asking the questions and leaving a bit of space and time for meeting participants to respond. 
Have Buyers Do Introductions And Set Context
A great way to start your meeting is having your champion or executive sponsor introduce you. They will set the context and they'll be able explain how your solution fits in with their priorities and big pictures.  
Use Way Less Text On Slides
This one is super tactical but people forget. Have no more than 25 words. Don't over-crowd your slides with unnecessary words. Your slides should tell a story and share a key take-away point. Your talk track and questions should engage your stakeholders and meeting participants. It's hard enough to read slides. Don't make your meeting participants have you lean in to their computer screen to read your slides because they probably won't bother.
Connect With People On LinkedIn Before Meetings 
Save time in your meetings by connecting with people before. If you're hosting the meeting, be proactive and share LInkedIn profiles before meetings making it easy for people to view each other and connect. 
Set Up Your Online Work Environment For Success
First, you need to get your work environment space set up for success. Our friends at Winning By Design have created a checklist of best practice tips that are ideal to follow in big stakeholder meetings.
Have your camera be two feet away from you. If the camera is too close to your face it can be unflattering and if it's too far it will be hard to see your face and engage with you.

Make sure you have the optimal camera angle.

Get your lighting to be just right. Avoid too much backlight.

Use a professional virtual background, only if you have to
Enable Your Teams To Be Masters At Virtual Selling
If you're interested in learning more about how to get your teams more effective at  virtual selling, sign up to get access to our coaching videos and sales assets available in our free on demand course. Click here to learn more and get started.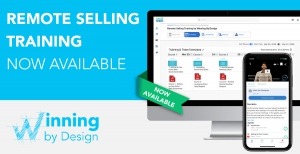 Recent Posts on Sales Process
Join Our Sales Enablement Community
Advance Your Career
Learn More